Carol-Ann Van Blerk, a maker and crafter of all kinds of things, is the owner of Cette Petite Maison. This french term means
this little house
.
Carol-Ann embraces a simpler lifestyle and her products are always created with sustainability in mind. She offers a small range of not only her items at her website boutique, but also products grown and harvested locally by neighbors and friends. You can see the reason for her tagline,
Products with Provenance.
Organic Lavender Lip Balm from Cette Petite Maison
Her lavender and rose lip balms,
Aromatherapy for Lips
, are made with beeswax and coconut oil. She also kindly shares a recipe for anyone wanting to make their own.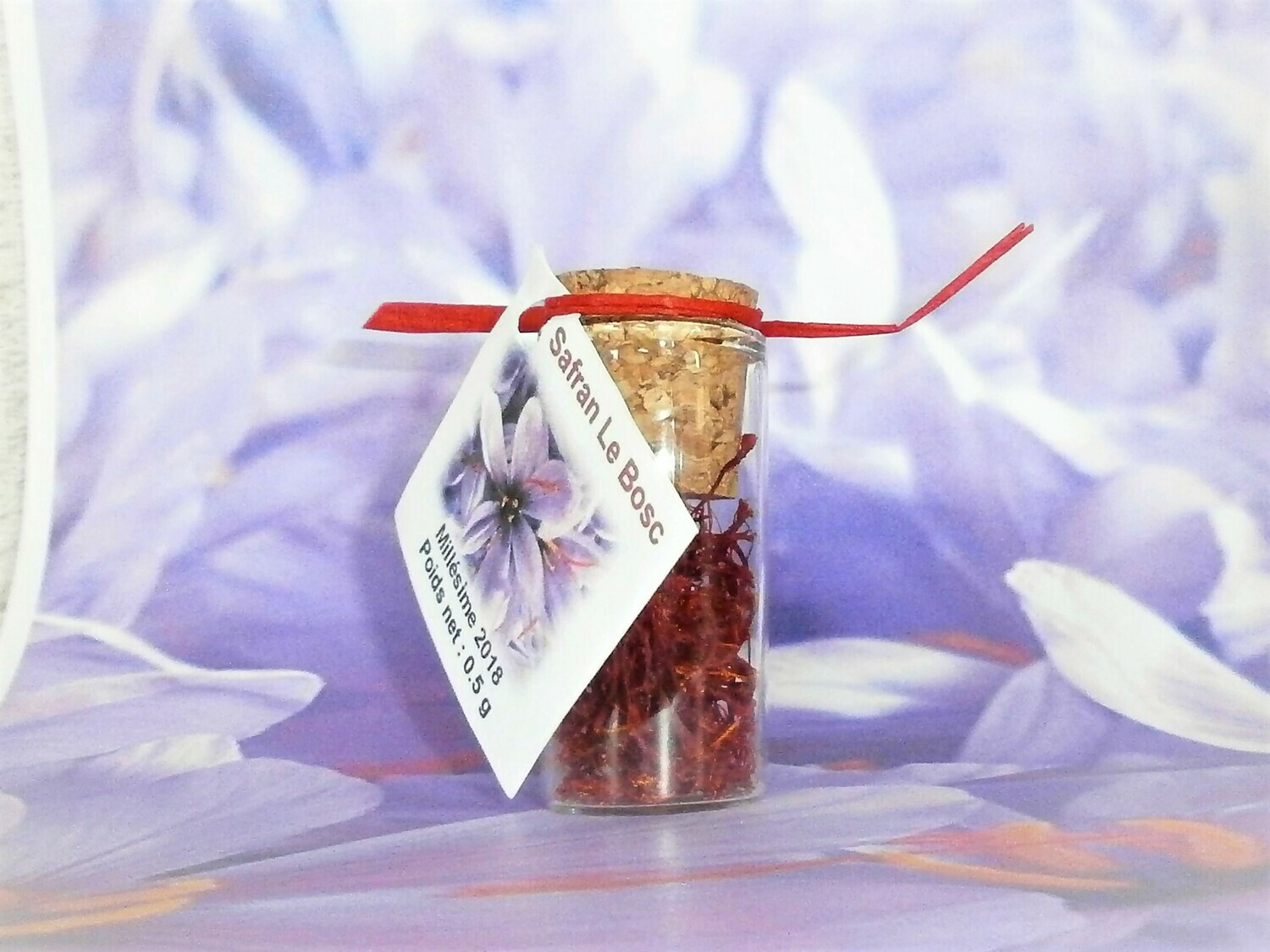 Cette Petite Maison's French Saffron
For the foodie and crafter, Carol-Ann is offering pure saffron threads harvested and dried by Stéphanie and friends.
Saffron is a key seasoning, fragrance, dye, and medicine in use for over three millennia. One of the world's most expensive spices by weight, saffron consists of stigmas plucked from the vegetatively propagated and sterile Crocus sativus, known popularly as the saffron crocus. ~Wikipedia~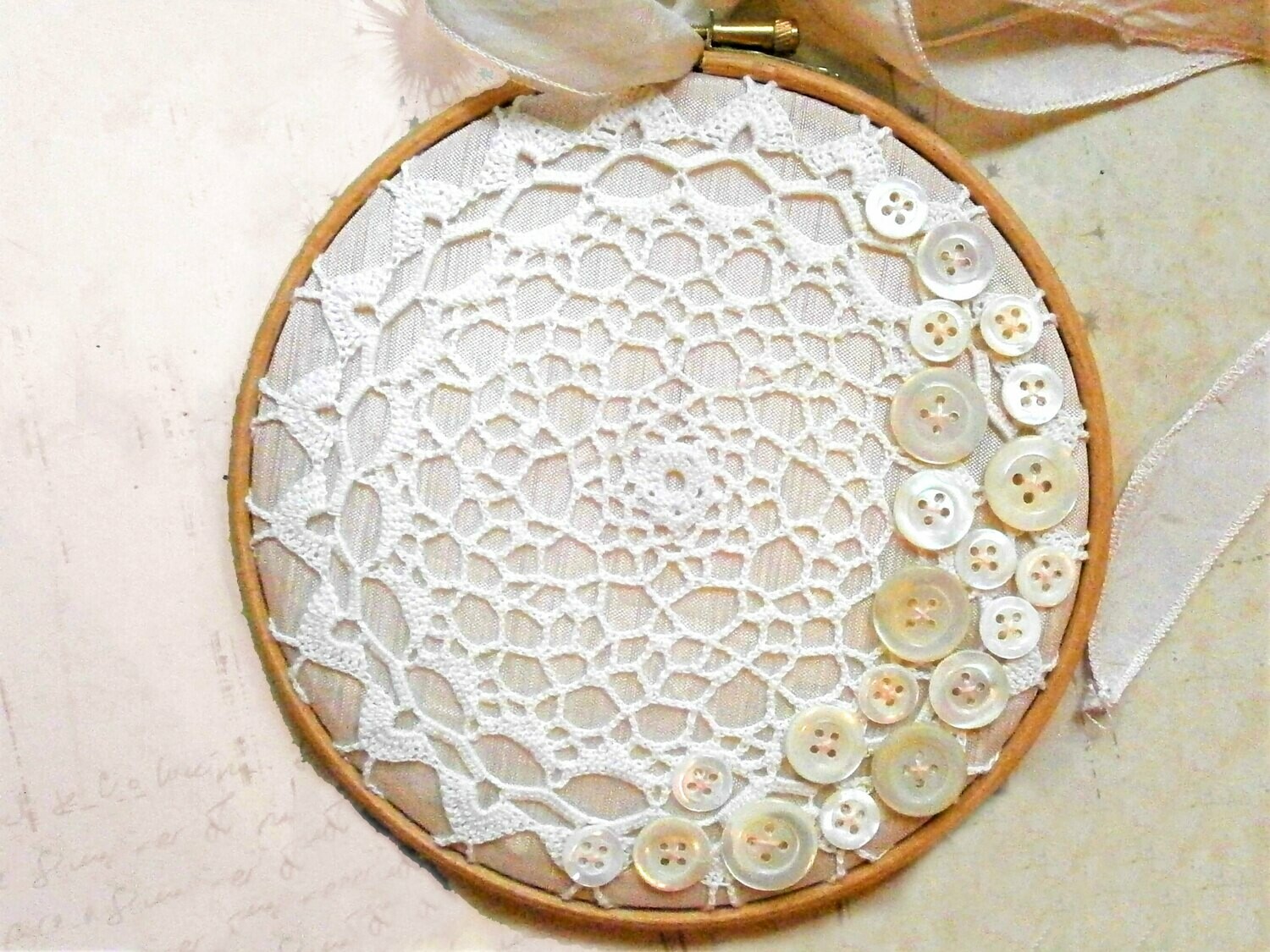 Carol-Ann Van Blerk's Embellished Embroidery Hoop Craft
Carol-Ann loves
vintage lace and buttons,
and has been applying them to decorated embroidery hoops.
This one features a
vintage
cotton doily backed with blush-coloured
vintage
Silk. She also added a scattering of
vintage
French mother-of-pearl buttons. Hang this handcrafted decorative piece with the attached hand-dyed silk ribbon.
This is the smallest of the hoops that she is currently offering.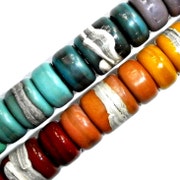 Ooooh Beads
As a ceramics crafter,
Carol-Ann also makes lovely handmade lampwork beads, beading supplies and equipment. She has put that production on hold, however, so that she can concentrate on making other things.
Ooooh Beads
Am I jealous of Carol-Ann's crafting and designing?
Jealous mealous!
I admire all that she does! I do wish I could spend time firing handmade beads in a large, home-studio kiln, but I do many other satisfying creative things.
Ms. Van Blerk lives in deepest, darkest, rural France with a couple of horses, a dog and 4 cats. She says,
I try to live a simple, responsible and sustainable lifestyle.
Visit her websites, shops and social media pages to see more of her beautiful work and products via the links below.
Ooooh Beads
Carol-Ann's Websites:
Cette Petite Maison
https://www.cettepetitemaison.com/
Ooooh Beads
http://www.oooohbeads.com/our-story
Shops:
Cette Petite Maison Boutique
https://www.cettepetitemaison.com/p/blog-page.html
Ooooh Beads
http://www.oooohbeads.com/
Ooooh Beads Etsy
https://www.etsy.com/shop/OooohBeads
Social Media Contact:
Ooooh Beads Facebook
https://isn.page.link/jteR
Cette Petite Maison Facebook
https://isn.page.link/qc4y